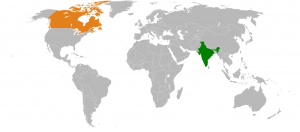 India's medical practices are some of the most well respected in the entire world. They have an excellent reputation for medical training and success in managing disease and illness. However, despite how stellar their medical reputation is, they still can benefit from traveling in order to receive medical treatment. Every nation on earth stands to gain knowledge and insight by looking outside of their own country for medical treatment. Even the strongest of medical systems can receive an education by engaging in medical tourism. This can also greatly benefit the personal health of Indian residents and citizens.
For example, when Indian residents and citizens travel to Canada to receive healthcare, they have access to treatment options they would not have in India. Canadian medical professionals are trained under different philosophies in medicine than medical professionals in India. They are also trained in different specialties than Indian physicians are trained in. Both are strong nations for quality medical care, but do not resemble each other in some ways, which means both have strengths and weaknesses.
Canadian medicine is socialized and easily accessible to its residents and citizens. Canadians pay small premiums for their socialized healthcare, or they pay no premium at all in some provinces. Overcrowding in medical facilities can happen, but it is the exception, not the rule. Patients in Canadian medical facilities are seen promptly and expediently, and receive high quality services. They have access to specialists as well, and with the addition of a private insurance policy, they have access to even more medical services.
Not all citizens and residents of India can afford to travel to receive healthcare, but those who can certainly should. Indian citizens and residents who travel to Canada to take advantage of its healthcare system will not be disappointed. Canadian culture is very welcoming of outside culture and is happy to accommodate the health needs of foreign citizens.